Send HTML Email with Safari & Mail For Fast Testing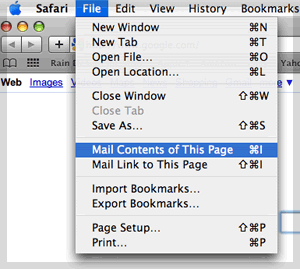 A few months ago I stumbled onto this tip in a comment thread while searching for a solution to a particular Outlook 2007 rendering bug. I forget the site and who the commenter was, but he mentioned that Safari had an option for exporting an HTML document into Mail.app. You can then use Mail to send the HTML email, giving you a fast and efficient workflow for testing HTML email.

If you've ever had to get an HTML email template rendering near-identically in everything from Outlook 2007 to Gmail to Lotus Notes, you know that there are some problems that simply have to be solved through trial and error. This means sending dozens (and sometimes dozens and dozens and dozens) of tests to yourself. If you send your tests using an email deployment service, such as Lyris or CampaignMonitor, sending each test can take a minute or more as you're forced to repeatedly execute a series of perfunctory steps.

Enter Safari. View your HTML file in Safari and select File > Mail Contents of This Page (or just hit Cmd-I). This will open Mail and load the HTML in an email. From there it's all over but the sending. It works for local files too, allowing you to make a change and send a test in about 5 seconds.

Note, this feature is only available in the Mac version of Safari. I think Internet Explorer has a similar option that works with Outlook, but I haven't used it.

Both comments and pings are currently closed.