WebFaction Web Host Review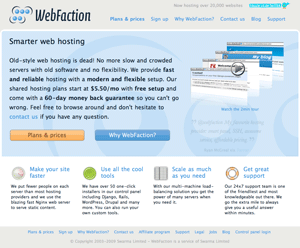 A few months ago I made the decision to upgrade from my run-of-the-mill, cheap shared hosting account to something that felt a little more serious.  Initially I had planned to move to Media Temple's Grid service but further research turned up an overwhelming number of bad reviews and seemingly legitimate complaints.
So then I decided to go the VPS route.  I narrowed down the possibilities to Slicehost and Linode.  In terms of positive reviews it was basically a toss-up, but Linode's entry level $20/month plan offered more RAM/Bandwidth/Storage so I ended up going with them.
As you may know, with a VPS host like Linode or Slicehost, you choose your Linux distro and then the rest is up to you.  Apache, MySQL, PHP, etc all have to be installed from scratch, from the command line.  This was a new experience for me but Linode's help documentation made it fairly painless.
After the satisfaction of setting up my own server wore off I started to question whether or not I really needed the granular level of control that a VPS offers (and that you pay for).  Could I live "sans root"?  Yeah.  Furthermore, I was worried that I'd unknowingly commit some noob sysadmin mistake that would only reveal itself when everything came crashing down.  So I decided to close my Linode account and leave the server management to the pros.
Hello WebFaction
At that point I discovered WebFaction.  I'd describe WebFaction as something in between shared hosting and a VPS.  Technically it's shared hosting but they give you more power than you'd normally find with shared hosting, so it feels more like a VPS.  From the WebFaction site:
How does your service compare to a VPS?
We give you a full linux shell account with all the tools you need to compile anything you like, so our service is almost as flexible as a VPS. One big advantage of our shared hosting service is that we maintain the server and keep it secure for you.
That's exactly what I was looking for.
With features like SSH, SFTP, ngnix, and support for Django and Rails, WebFaction is aimed at developers.  I haven't had to scale things up yet, but doing so looks simple.  In addition to the usual vertical scaling, they make it easy to spread your account across different boxes with automatic syncing and load balancing.
Control Panel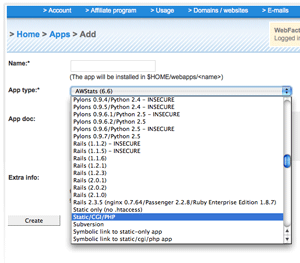 The control panel is definitely a bit under-designed.  If you're accustomed to the polish of a control panel like Media Temple's, at first look you'll find the WebFaction interface to be disappointing.  But beneath the pixels is a compact, well-functioning set of controls to manage your apps, sites, domains, and email.
Something that distinguishes WebFaction from most other hosts, and something that may feel foreign, is their "everything is an app" approach.  There is no "public_html" folder that you dump your public folders and files in.  Instead you use the control panel to create a "static app" (for static HTML or PHP sites), a Rails app, a Django app, etc.  Then you just have to associate your app with a domain or subdomain.  Initially I wasn't a fan of this but now that I've gotten used to it I don't mind it all.  I might even prefer it.
Via this Apps feature in the control panel you can achieve one-click installs of WordPress, Drupal, Django, Pylons, Joomla, Rails, etc.
Support
Most of the documentation is clear and thoroughly written.  The support forums may not be as bustling with users as those of larger hosts but I've always received prompt replies to my posts.  And the few times I've submitted support tickets I received lightning quick responses.
WebFaction started out as a Django hosting company so the Django community in the forums is significantly larger than the PHP or Rails community.
Reliability
I've only been using WebFaction for about 4 months but, for what it's worth, in that time I've experienced no downtime or server responsiveness issues.  I've yet to see how the entry level plan holds up to a Digg effect, but I've had a few bursts of traffic that were handled with ease.  (Caching, caching, caching.)
Last Thoughts
You'll notice that WebFaction has an application memory limit for each of its plans.  This only applies to long-running processes like Rails and Django.  Memory usage from the main Apache server, database servers, and your PHP-based apps do not count towards your limit.

A few small things to be aware of… PHP's mail() function does not work at WebFaction so you'll need to use a library like Swift Mailer or PEAR Mail to connect to the SMTP server.  If you're running WordPress there's a SMTP plugin.

WebFaction requires that your database name and database username be the same, which means there is a 16 character limit on your MySQL database names.  In addition, your database names must begin with your WebFaction username.  They've said they're planning to change this requirement in the future but I haven't seen anything said about when.  In the meantime one possible workaround would be to run your own instance of MySQL from your home directory.

Compared to VPS and other shared hosts I think their pricing is very competitive.  The entry level plan is $9.50/month if you pay monthly, and less if you pay in yearly installments ($5.50/month for the 5-year plan).

I don't like to be too emphatic with my recommendations (if for no other reason than to preserve their legitimacy), but I really can't think of anything bad to say about WebFaction.  If you're thinking of trying a new host I highly recommend that you check them out.  They have a generous 60-day moneyback guarantee just in case things don't work out between you.

OK, that's my review.  If you're interested, take a look at WebFaction and see what you think.

Friendly disclaimer: The WebFaction links above include my affiliate ID which means I'll get a few dollars if you sign up.

Update (7/23/11): A quick update to this review: I've now been using WebFaction for almost two years. Since signing up with WebFaction I've experienced no extended downtime and only a few incidents of momentary unresponsiveness (I use Pingdom for server monitoring). And I didn't get Fireballed when Gruber linked to my site (thanks mostly to WP-Cache). All in all I'm a very happy customer and I continue to recommend WebFaction to anyone looking for powerful shared hosting.

Also, in the comments Hank pointed out that sendmail and PHP mail() are now supported.

Both comments and pings are currently closed.